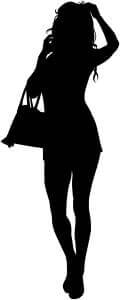 Models from all over the world may enter the United States for a temporary stay on a visa to model or participate in modeling events. If you are a model in the fashion industry and you are in search of a U.S. visa, you may not fully understand your options. This article addresses the common visa options for models coming to the U.S.
H-1B Work Visa: Allows Modeling for Three Year Stay in U.S.
Under the H-1B Visa Program, a fashion model can come to the United States to work for a modeling agency for a three year period of stay. The H-1B program allows an employer to temporarily employ a foreign worker in the U.S. on a nonimmigrant (temporary) basis in a specialty occupation or as a fashion model of distinguished merit and ability. The H-1B3 "model" visa can be extended for up to six years. A major benefit of coming in as an H-1B3 visa model is that it allows for you to seek permanent residence (or a green card) in the United States. There are two basic requirements to obtain an H-1B visa as a fashion model:
You must be qualified as a "distinguished" fashion model in the industry; and
You must have a written job offer from an employer in the United States.
Employer Must Require a Fashion Model of Prominence
In order to be employed in the U.S. as a fashion model, it must be demonstrated that the model is of distinguished merit and ability. A "distinguished" fashion model is a model that has gained some recognition for his/her talents as a model. This would include winning contests, pageants, or any other modeling contest. In addition, highly recognized models from overseas may present evidence of payment of high remuneration for their work as a model as evidence of distinguished merit.
The federal regulations require a prospective employer to show that the model is prominent in the field and that the position requires prominence. Prominence is defined as "a high level of achievement as evidence by a degree of skill and recognition substantially above that ordinarily encountered … The person must be renowned, leading, or well-known." The H-1B3 category for distinguished models does not include hair stylists and make-up artists who may apply under other nonimmigrant categories such as O-1 or H-2B.
The Employer Must Submit an Offer Letter to the Model
The H-1B3 model visa requires the employer to submit a copy of the written contract or summary of the terms of the oral agreement. Modeling agencies will issue a performance contract prior to the employment engagement. This will suffice under the standard. Many models come to the U.S. to perform at a nationally or internationally recognized event. This must be documented. Under the federal regulations, the employer must show the services to be performed for a distinguished event or production, or for an organization that has a distinguished reputation or record of employing prominent persons.
What are the Requirements for the Model under H-1B3?<
The fashion model must document two of the four following criteria:
The model must show national or international recognition as evidenced by critical reviews, articles, news stories, etc.
The model must be performing for employers that have a distinguished reputation;
Recognition by experts or critics; or
Commands high salary in relation to others.
It must be stressed that the fashion model only needs to present two of the four above-mentioned criteria to be granted an H-1B3 model visa. This would not be difficult if the model were extensively written about by critics and the agency employing the model in the U.S. is well-known. Other scenarios may be a close call requiring advice from an experienced law firm.

In Part 2 of the "model visa" series, I will be presenting another option available to fashion models seeking to enter the United States, namely: the O-1 Fashion Model Visa. Briefly stated, the O-1 model visa allows foreign models of extraordinary abilities to visit the U.S. for a temporary stay. This is not quite as advantageous as the H-1B3 model visa since the O-1 visa is only valid for one year and does not offer a path to permanent residency.

How to Contact Us<

If you have questions about an H-1B3 Model Visa, immigration visa or green card matter, and/or you need help in an immigration process, please contact our immigration attorneys or call The Law Firm of Shihab & Associates Co., LPA at the nearest office close to you to consult with an attorney. Our law firm handles various matters including H-1B visas, Green Cards and Permanent Residence, family immigration, immigrant visas, non-immigrant visas, employment visas, Investor Visas, PERM applications, and many more. Please contact us and experience how our law firm can assist you in your immigration matters. Whether you are a modeling agency, or a fashion model or a family member of a fashion model, The Law Firm of Shihab & Associates, Co., LPA has competent, responsive and innovative lawyers who can make your immigration experience pleasant and seamless.