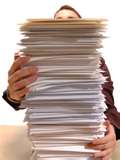 If you filed an employment-based adjustment of status (I-485) application between July 1, 2007 and August 17, 2007, you were definitely not alone. Approximately 325,000 adjustments (I-485) applications were filed during this period. This is because the visa bulletin briefly became current for all employment-based visa categories, except "other workers." Since the visa bulletin retrogressed, many of these adjustment applications reverted to a "pending" status. Many of our clients have asked what they can do in this frustrating situation.
Adjustment (I-485) Switching: The Permissible Line-Jumping
This article addresses the issues of transferring I-485 applications (in a process called "I-485 switching," transferring adjustment applications, or adjustment conversion) to a new or subsequent family or employment-based immigrant visa petition. Thousands of people are eligible for this benefit and didn't even know it! These procedures are invaluable to alleviate the backlog created by the onslaught of I-485 applications sent to the Service Centers in 2007. Properly done, you can dig your case out of the "blizzard of I-485" saving yourself and the Service years of pending paperwork and frustrating processing delays.
Transferring Adjustment Applications to New Family or Employment-Based Immigrant Visa Petitions
The AFM under section 23.2(l) provides several examples of when an applicant for adjustment under one category (preference or immediate relative) will prefer to have his or her application considered under another category. These examples include:
An alien who originally applied for adjustment based on an approved I-140 petition and married a U.S. citizen while the I-485 was pending, but who now prefers to adjust based on an I-130 filed by the new spouse;
An alien who originally applied for adjustment as the spouse of a U.S. citizen, but now prefers to be granted adjustment under an employment-based category in order to avoid having to deal with the conditional residency requirements of section 216 of the Act;
A Cuban national who applied for adjustment under section 202 of NACARA, but who now prefers to be granted adjustment under the Cuban Adjustment Act in order to receive the "rollback" provisions of the latter.
What this means is that an existing application for adjustment can be converted to another based on a different I-140 or I-130 for an immediate relative petition, which could include a new priority date or visa classification. Therefore, it is possible to reverse the principal/derivative classification and process and application sooner based on the spouse's priority date or classification. Exceptions are found in cases involving automatic revocation of employment-based petitions, fraud, or the denial of the original I-140 petition. If the exceptions do not apply to your case, then read on.
Guidelines: How to Transfer an Adjustment Application
There is no specific form for requesting a transfer of adjustment, but it must be done in writing. You do not need to pay a new fee or file a new I-485 application. If USCIS erroneously advises you that a new fee is required, you may obtain a fee refund. To make your request, you should provide clear information to the Service Center so it can make a determination that an earlier priority date or different visa classification can be applied to your pending adjustment (I-485) application. You must be able to demonstrate that you continuously maintained eligibility for the application originally filed. This is important in the section 245(c) and 245(k) interplay.
Section 245(c) and 245(i) Considerations
Although section 245(c) of the INA requires an adjustment applicant to remain in valid nonimmigrant status continuously at the time they filed their I-485 application, employment-based applicants benefit from section 245(k). This section excuses up to 180 days of unauthorized employment or invalid status. The AFM 23.2(l)(2)(E) discusses a situation where an alien would be barred from 245(c):
The exception to this arises when the alien is converting from a basis which enjoys an exemption from 245(c) to one which does not. For example, if an alien who entered the U.S. under the Visa Waiver Program and originally sought adjustment as the child of a U.S. citizen turns 21 years of age and wishes to convert to an applicant for adjustment as the unmarried son or daughter of a citizen, he or she acquires a bar to adjustment under section 245(c) (because he or she is no longer an immediate relative).
If you are barred from utilizing section 245(c) at the time of the original I-485 filing, and you have already received a waiver of such bar under the provisions of section 245(i) by paying the penalty fee, you do not need to pay that penalty fee again. If you have not paid the fee for the waiver, you are still eligible to seek the section 245(i) waiver because you are a "grandfathered" alien.
Other considerations include the benefit of 245(k) which applies when a worker has not maintained valid nonimmigrant status or has worked without authorization, but such violations were for less than 180 days. Under 245(k), an employment-based applicant is allowed up to 180 days of invalid status or unauthorized work from the date of the last admission prior to the filing of the adjustment application. The application of 245(k) is determined at the date of the original adjustment application and not applied again when a new I-140 approval is submitted for the I-485 application. Be careful though that under INA Sec. 245(c)(8), unauthorized employment for greater than 180 days is grounds to deny the adjustment application, regardless of whether it is before or after the application is filed.
Adjustment Transfer Cases Approved by Nebraska Service Center
The following situations were approved by the Nebraska Service Center ("NSC") relating to the adjustment transfer principles under AFM 23.2(l):
A principal husband and derivative spouse filed adjustment I-485 applications based on the husband's approved third preference EB-3 petition with a priority date of January 1, 2005. Subsequently, the wife's employer obtained an approved EB-2 petition with a priority date of June 1, 2004. The NSC approved the adjustment applications by reversing the principal and derivative status of the husband and wife and allocating the EB-2 priority date of June 1, 2004 to the wife as principal and husband as derivative.
Prior to marrying, a husband and wife each filed separate, employment-based applications to adjust status (I-485) based on separate I-140s. The wife had an earlier priority date filed under EB-2 and the husband has a much later priority date based on EB-3. The couple married after the I-485s were filed but before the priority dates became current. When the wife's priority date becomes current the husband's application is converted to a derivative application based on his wife's pending application, giving him the benefit of his wife's earlier EB-2 priority date. The applications were approved.
The adjustment transfer rules allow a marriage or promotion to new positions with the same employer or a new employer, supported by a new I-140 and PERM to move a pending adjustment application further ahead in the line. The result is that everyone wins!
Result – Everyone Wins! Faster Processing, Less Service Center Backlogs
When properly accomplished, a transferred I-485 adjustment application benefits both the Service and the alien. The Service saves itself from the crippling I-485 backlog by allowing a credible and justified I-485 transfer request to be approved for eligible family or employment-based cases. Being able to transfer an I-485 can save significant time in waiting for your green card. For questions about this process, contact an experienced immigration lawyer.