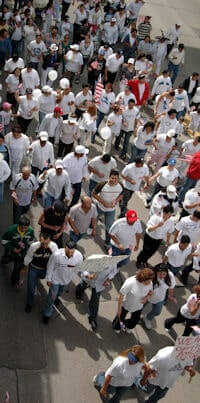 A series of protest rallies have sought to highlight the issues faced by young undocumented immigrants. The National Immigrant Youth Alliance (NIYA) has declared March to be "National Coming Out Month" and encourages young people to publicly acknowledge their undocumented immigration status. Of course, this carries certain risks to individual immigrants along with any benefit it might confer on the immigrant community as a whole. The legal implications of "coming out" as undocumented are also inextricably linked to the politics of immigration.
NIYA's campaign, according to its website, began with students who would have benefitted from the DREAM Act, the bill in the U.S. Congress that would have conferred legal immigration status on students who met a series of criteria. When the bill failed to pass, students who described themselves as "DREAMers" protested outside of House and Senate district offices and publicly announced themselves as undocumented immigrants in order to bring attention to the realities of their lives. Of course, in doing so, they have exposed themselves to the risk of arrest and deportation.

At a protest outside the Detroit office of Immigration and Customs Enforcement (ICE) on Wednesday, March 14, high school and college students told their stories to an assembled crowd. The event, titled "Undocumented and Unafraid: Coming out of the Shadows," was part of NIYA's month-long campaign. Many of the people in attendance at the event said that they felt bringing public attention to themselves would keep them safe from deportation, since they are in the public eye. A community group in attendance is working with Michigan state legislators on a bill that would allow undocumented students who graduate from high school in the state to pay in-state tuition at Michigan universities.
A similar event occurred on the same day in Philadelphia outside the building that houses both ICE and U.S. Citizenship and Immigration Services (USCIS). Police arrested two college students who were allegedly blocking the street, but otherwise the rally was reportedly peaceful. The students in attendance presented a similar message that "coming out" as undocumented would bring community support and make deportation less likely. The opinion of one student quoted by the Philadelphia Inquirer was that ICE did not want publicity for deporting children and college students.
An ICE spokesman issued a statement saying that the agency's priority is to enforce immigration laws first against "criminal aliens," those who represent a threat to public safety or border security, and those who routinely violate immigration laws. This is in line with the stated policy of the Obama Administration, but the letter of the law still holds that the government has the authority to try to deport the students attending these protests.
Immigration authorities frequently exercise discretion, choosing not to deport people on humanitarian grounds or grounds of fairness, or when a community rallies to an immigrant's support. Those types of cases depend almost entirely on the discretion, and therefore the attitudes and opinions, of the immigration officials nearby. Until legislation, such as the DREAM Act, offers a concrete form of relief under the law, these students are taking a tremendous risk.
The United States immigration system is often complicated and confusing. For a free and confidential consultation with a skilled and experienced Michigan immigration visa lawyer, contact Gus Shihab online or at 877-479-4USA (4872) today.
More Blog Posts
ICE Will Not Deport Brazilian Teen Who Survived Car Crash, Immigration Visa Lawyer Blog, February 21, 2012
USCIS Grants Deferred Status to Man on Tourist Visa So He May Care for Sick Husband, Immigration Visa Lawyer Blog, February 16, 2012
After Review of Pending Deportation Cases, One in Six Get a Reprieve, Immigration Visa Lawyer Blog, January 26, 2012
Photo credit: 'Immigration Rally 2: Day without Immigrants rally in Nebraska' by echobase on stock.xchng.