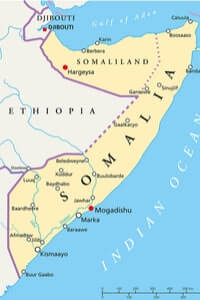 The Department of Homeland Security (DHS) announced on May 1, 2012 that it will extend Somalia's eligibility for temporary protected status (TPS) for eighteen months from its current expiration date. The government cited the ongoing "disruption of living conditions" in the east African nation due to severe drought conditions, armed conflict, and political instability. Somalia has had TPS status since September 16, 1991, and was redesignated in 2001. The extension allows individuals currently registered as TPS to re-apply, and it allows individuals who are from Somalia but present in the United States to obtain TPS for the first time.
Somalia is a country in east Africa with a population of approximately 10 million, according to the U.S. State Department, with land area making it slightly smaller than the state of Texas. Of its total population, about 2 million people live in the region of Somaliland in the north, which seeks international recognition as a separate, independent country. The country has endured decades of civil war, but its current troubles began over twenty years ago, when the national government collapsed in 1991. Various factions, supported by a variety of foreign governments and organizations, have fought for control of the country ever since. A severe drought began in the spring of 2011, leading to widespread famine and a worsening refugee situation in neighboring countries. The United States has contributed millions of dollars in humanitarian aid. Armed conflict continues as well, according to the State Department, with neighboring Kenya and Ethiopia sending troops into the country in the past year.

If conditions in a foreign country temporarily prevent nationals of that country who are present in the United States from safely returning, the Secretary of DHS has the authority to confer TPS on that country for a specified period of time. Such conditions might include war or a natural disaster. Individuals who are not otherwise removable, and who could qualify for work authorization, may apply for TPS. TPS is valid for so long as the DHS Secretary maintains the country's eligibility. When TPS expires, an individual returns to whatever status they had before. People with TPS may apply for a nonimmigrant visa or to adjust status from whatever visa they had prior to TPS. TPS does not, however, offer any specific path to permanent residence or any other immigration benefit.
DHS has extended Somalia's TPS eligibility to March 17, 2014, eighteen months from its previous expiration date of September 18, 2012. People from Somalia who currently have TPS may reapply during a two-month period beginning May 1, 2012 and ending July 2. People who do not currently have TPS may register between May 1 and October 29, provided they can show that they resided in the United States on May 1, 2012 and have been continuously present here. Around 250 people will be able to re-register, according to DHS, and approximately another one thousand will be eligible to register for the first time.
The United States immigration system is often complicated and confusing. For a free and confidential consultation with a skilled and experienced Ohio immigration visa lawyer, contact Gus Shihab online or at (800) 625-3404 today.