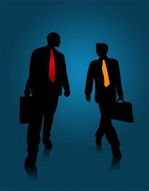 This article is an H-1B case study of concurrent H-1B filings. Here's the situation: a hypothetical H-1B worker currently works for a cap-exempt H-1B employer (Company A) and wishes to transfer her visa to a cap-subject employer (Company B) while maintaining employment at Company A. Company B files and obtains an approval of an H-1B cap petition to begin work on October 1, 2010. The question arises: when can the H-1B worker begin work with company B? Can she start immediately or does she have to wait until Oct. 1? What happens if she begins working at Company B before her petition is approved? If she begins working at Company B, does she have to withdraw her H-1B petition for company A?
Issue: Whether an H-1B beneficiary may continue to work for a cap-subject employer, after the H-1B petition has been adjudicated and approved, prior to the stated work period that commences on a future date of October 1 in the H-1B petition.
The Portability Rules for H-1B Employment
The H-1B visa allows workers to be employed by several employers concurrently, e.g., an accountant employed by Company A who also performs consulting work for Company B. If the H-1B worker has H-1B status from Company A and will continue to work for Company A while commencing new employment for Company B, then Company B must file an H-1B petition requesting extension of H-1B status of the worker. Under the H-1B portability rules, the H-1B alien worker is allowed to begin working for Company B as soon as the petition has been filed. This is advantageous as there is no requirement that the H-1B worker needs to wait for the actual approval of the H-1B petition. The H-1B worker may engage in part-time employment Company B so long as the LCA states that the position is part-time, assuming that the position is still a specialty occupation requiring a relevant bachelor's degree or foreign equivalent.
Hypothetical Scenario: Concurrent H-1B Employment
An H-1B beneficiary with an approved H-1B visa with a cap-except Company A has a validity date from say May 15, 2010 until May 14, 2013. The worker was not subject to the annual H-1B cap. The annual H-1B cap is set at 65,000, with an additional 20,000 visas for advanced degree graduates of U.S. universities. The law exempts nonimmigrant workers from the annual cap if they are employed or has been offered employment at an institution of higher education as defined in section 101(a) of the Higher Education Act of 1965 .
Company B has offered the H-1B employee a position with the company as an Accountant (a qualifying specialty occupation). Company B recently submitted an H-1B petition on behalf of the beneficiary with a start date of October 1, 2010 at the start of the 2011 fiscal year, since the beneficiary is now subject to the annual cap going from a cap-exempt organization (Company A) to Company B, a cap-subject employer. Company B's H-1B petition filed on behalf of the beneficiary is now approved by the USCIS.
The so-called portability provision under the law provides continued employment authorization to the beneficiary of an H-1B petition, who is working at the cap-exempt organization and whose employment period is covered by a valid LCA beyond October 1, provided that he/she meets all other requirements under the portability provision as set forth under the law. Meeting these conditions, the beneficiary may begin employment upon the filing of the petition with the cap-subject employer.
Such employment authorization continues until the new H-1B petition is adjudicated. Meeting all of the conditions under the applicable law, an H-1B visa holder may transfer employment once the new employer files on behalf of the H-1B candidate. This ability to port is a temporary benefit bestowed on the H-1B beneficiary under the law but does not confer H-1B status to the beneficiary. Hence, employment authorization shall continue for such alien until the new petition is adjudicated. If the new petition is denied, such authorization shall cease.
While it is clear that if the petition is denied, the employment authorization ceases. The question arises, however, what happens when the petition is approved? The portability provision does not specifically provide an answer to this question.
Can the H-1B Employee Work for Company B Upon Approval?
In fact, the question was specifically brought up in a string of correspondence between Ms. Naomi Schorr with Kramer Levin Naftalis & Frankel, LLP and Mr. Efren Hernandez III of the United States Citizenship and Immigration Services ("USCIS") during 2007. In her letter dated April 27, 2007, one of the issues on which Ms. Schorr sought clarification from the USCIS was whether the H-1B beneficiary who has ported from a cap-exempt institution to a cap-subject employer, whose H-1B petition with the new employer has been approved and who meets all the conditions the law, could continue to work prior to October 1. In his reply letter dated May 23, 2007, Mr. Hernandez answered in the following:
"As you note, section 214(n) provides employment authorization until the H-1B petition is either denied or adjudicated. Congress appears to have not contemplated a situation in which H-1B status would not be immediately conferred upon the portability worker upon approval of the H-1B petition. By addressing the result of a denial but not an approval Congress seems to have assumed that the alien would immediately be covered by the approval and would no longer require the employment authorization conferred by 214(n), and thus drafted 214(n) so that the employment authorization it provides ends upon "adjudication." I agree that a result in which an alien with a pending petition is in a better situation than one with an approved petition makes no sense. A reading of 214(n) such as the one you suggest that continues employment authorization until H-1B status is available is a logical one, and USCIS will explore this position in future rulemaking."
Based on this string of correspondence, according to Mr. Hernandez it would be absurd to reach the decision that once the petition becomes approved, the H-1B beneficiary would have to stop working until October 1, when new H-1B numbers become available. Such a conclusion would seem to defy logic.
Meeting all of the conditions under the law, the H-1B beneficiary may work for Company B prior to October 1, provided that a new LCA is submitted that would cover this period from now until the start of the next LCA period in the H-1B application, i.e., October 1st.
Conclusion
The Law Firm of Shihab & Associates, Co., LPA has a staff of lawyers experienced in current H-1B issues such as portability and concurrent employment. We also handle all employment-based immigration matters including PERM, investor visas, E-2 visas, National Interest Waivers and more. Call our firm today to schedule a consultation at (800) 625-3404.