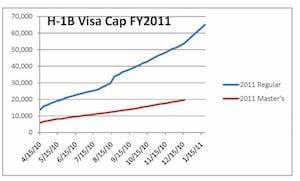 If anything can be learned from the market's absorption of new highly skilled foreign labor in Specialty Occupation (H-1B) visas last year, is that these foreign nationals do not compete with US workers over the same jobs. Since numerous prestigious studies correlated innovation in America with the population of H-1B visa workers, the H-1B visa worker market absorption data is an indicator of how well the overall country is doing economically.
Even though the federal government made 85,000 new such visas available for the picking on April 1, 2010 (as it does every year), employers were slow to apply. For the first time in over a decade, all new specialty occupation, H-1B visas were finally consumed by January 21, 2011.
In prior years, all available visas were swallowed up voraciously by employers in a matter of hours when H-1b visas became available on April 1. Desperate employers could not fill open positions in information technology and all other highly skilled sectors fast enough; hence they resorted to importing these workers from other countries. But last year was different. Unemployment figures soared to double digits, a matter which the US had not witnessed for decades. Hence, if the H-1B visa worker market absorption experience last year tells anything, it says that employers were able to fill some of the available positions with US workers and/or that there were no jobs to fill.
Earlier this calendar year, pundits predicted an economic resurgence and that we are now on the brink of recovery. Hence a comparison between the 2011 and 2012 federal fiscal years' market absorption rates of H-1B visa workers should be a good indicator of the overall employment market and particularly the health of the technical employer sector.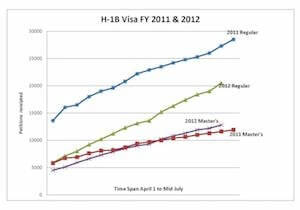 One interesting phenomenon this fiscal year, is that by April 15, 2011, the USCIS reported receiving only 12,200 H-1B visa petitions, as compared to last year which was 7,200 more (19,400) for the same date. In other words, early indicators of the H-1B visa market usage this year showed a potentially weaker absorption rate of foreign H-1B visa workers. Even with a lower starting point this year, however, the rate of weekly H-1B visa petitions filed since April 2011 is greater than was last year for the same period, indicating a stronger H-1B worker market absorption. For instance, last federal fiscal year, there were 16,900 petitions filed between April 15 and July 16 while this year, there were almost twice that many – 32,080 petitions filed in the same period. It is unclear why the initial filing numbers in April of this year were so much lower but certainly it is a much more robust year than last year for H-1B visa workers.
Moving forward, my prediction is that we will continue to have H-1B visas available well into the end of the year. Unless market demands shift, which they may very well do so as a higher number of weekly petitions filed occurred after July 2010 and continued to climb during the last quarter of the year, it is expected that the cap will reach between November 2011 and January 2012.