EB-2/EB-3 immigrants and those seeking H-1B visas cannot be offered wages less than the "prevailing wage" of their target U.S. occupations. The prevailing wage is considered the "going rate" or normal pay for U.S. occupations in a given geographic area (for a given skill level). Thus, knowing the prevailing wage is necessary for H-1B, EB-2, and EB-3 cases. To receive a prevailing wage determination (PWD), employers can use the Department of Labor's iCert Portal. (For those who intend to employ highly skilled H-1B workers, the easy to use Foreign Labor Certification Data Center is an option.)
The first table below reflects the current National Prevailing Wage Center (NPWC) processing times for Prevailing Wage Determination requests, sorted by case type. The second reflects processing times for Redeterminations—which are recourse for employers who believe that the determined wage is too high—and Center Director Reviews, which are for challenging Redeterminations.
Processing Times for Prevailing Wage Determinations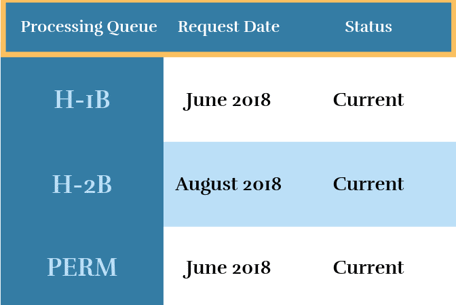 The right column represents the submission months of cases now being processed. PWDs for all case types are taking around sixty days to process, which is considered to be optimal processing time by the Department. The PERM category is for those seeking permanent residence (through EB-2 or EB-3).
Processing Times for Redeterminations and CDRs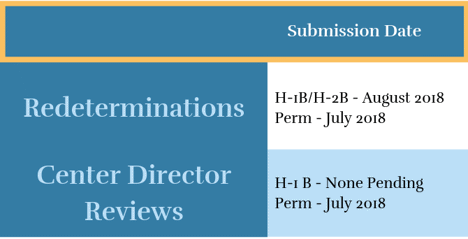 In case the determined prevailing wage is higher than what the employer was prepared to pay or is in general unusually high, he or she can request a Redetermination. If this does not yield a desirable result, the employer can ask for the Center Director to review the case. (The dates in this chart mean the same thing as they do in the one above.)
If you submitted a PWD request prior to its corresponding date posted above, but have not received one yet, please contact The Law Firm of Shihab & Associates, Co., LPA.