A U.S. employer who wishes to indefinitely hire a foreign national in the U.S. will likely need a PERM (Program Electronic Review Management) Labor Certification approved by the Department of Labor (DOL) before sponsoring a visa petition. The PERM certifies that no qualified U.S. workers are being passed over for jobs that they would otherwise get, or are being displaced in wages or working conditions, by some indefinite job offer being made to a foreign national. Below is information that provides hints on how long the certification process should be expected to take.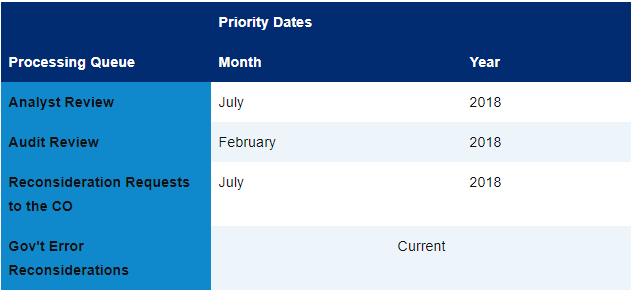 PERMs that were filed in July 2018 should have some decision, Certification, Audit, or Denial, by now or very soon. Cases that were originally submitted in or before February 2018, but were since selected for Audit, should be already or soon adjudicated. If a denial occurs, employers may submit Reconsideration Requests. Such requests are being adjudicated now if they were submitted in or before July 2018.
Over the past few months, Analyst Review processing time has turned from a six-month process to a seven-month one. Audit Review has stayed the same, and Reconsideration processing time has increased by three months.
Was your case submitted prior to its corresponding date posted above but is still awaiting adjudication? Have you received a PERM Audit? Do you want general assurance in successfully completing the PERM process? If you answered yes to any of these questions, please contact The Law Firm of Shihab & Associates, Co., LPA.