The United States Citizenship and Immigration Services (USCIS) announced last week that it is changing the format of two important documents: the Employment Authorization Document (EAD) and the Form N-560 Certificate of Citizenship. The agency's intent in modifying these documents is to enhance some security features and deter fraud and counterfeiting. It began issuing new EAD's on October 25, 2011 and new Certificates on October 30. The agency has launched several initiatives in recent years to combat immigration document fraud, including the E-Verify system, used to validate identity documents.
The EAD, commonly known as a "work permit," allows nonimmigrants who are lawfully present in the United States on certain types of temporary visas to work for a specified period of time. USCIS must adjudicate an application for a work permit within ninety days of receiving it, or else it must issue an "interim EAD" to the applicant. The interim EAD allows the applicant to work for some period of time or until USCIS adjudicates the application. Employers may hire individuals with a valid EAD without any further authorization from immigration authorities. Form I-9, the Employment Eligibility Verification form that employers must collect from every new hire, lists the EAD among its "List A" documents. These are documents that, by themselves, confirm an employee's eligibility to work in the U.S. These include a passport or a green card in addition to an EAD. Employers often use the E-Verify system to confirm the validity of identification documents submitted with a Form I-9. An EAD typically does not limit the type of work someone may do.
USCIS developed the new design in collaboration with the Forensic Document Laboratory at Immigration and Customs Enforcement (ICE). It features more complex design elements and multilayered components to deter copying or counterfeiting, and each card will have some personalized elements for fraud prevention. The new card displays the worker's alien registration number more prominently and includes other identifying information.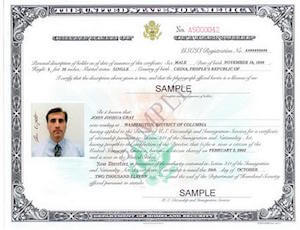 The Form N-560 Certificate of Citizenship serves as evidence that a person has become a U.S. citizen through certain processes. It is available children of U.S. citizens born abroad and children whose parents became naturalized before the children turned 18. This form is different from the Certificate of United States Naturalization available to citizens who went through the full naturalization process. The N-560 is no longer a "List A" document on Form I-9, and so is not sufficient by itself to establish a person's eligibility to work.
The revised form uses a printing process that offers additional protection against fraud and document tampering, and it incorporates design features that deter copying or counterfeiting. USCIS claims that the new processes reduce the reliance on human labor and therefore cut down on the possibility of human error.
Ohio immigration visa lawyer Gus Shihab helps to guide people through the complex processes of applying for immigration benefits and managing the many documents involved. For a free and confidential consultation, contact him through his website or at (800) 625-3404.
Web Resources
Fact Sheet: USCIS Redesigns Employment Authorization Document and Certificate of Citizenship to Enhance Security and Combat Fraud, U.S. Citizenship and Immigration Services.
More Blog Posts
USCIS Announces Plan to Streamline Filing of Citizenship Forms, Immigration Visa Lawyer Blog, October 30, 2011<
New Bill in Congress Proposes Increasing Immigration of Highly-Skilled Workers, Immigration Visa Lawyer Blog, October 28, 2011
Significant Delays Experienced in Processing Prevailing Wage Determination Requests for PERM Applications, Immigration Visa Lawyer Blog, July 26, 2011