In just a few short months, the U.S. Citizenship and Immigration Service (USCIS) will begin accepting new  H-1B quota visa applications for FY 2017, starting on April 1, 2016. It is important this year to begin the application process well in advance in order to file as early as possible, because demand for H-1B visas is expected to be very high. In 2015, the FY 2016 visa quota cap was met in only five short days. With a visa cap of only 65,000 for bachelor's degree-holders and an extra 20,000 for those with Master's degrees, there will likely be many more petitioners than visas, resulting in a lottery process.
The first step in the H-1B visa process is for a job to be offered by a U.S. employer and accepted by an alien worker. There must be a valid employer-employee relationship, for example if the employer has the ability to hire, supervise, pay, and fire the employee. In addition, the job offered must be in a "specialty occupation," that is, one requiring at least a bachelor's degree that is directly related to the position.
Once the alien worker accepts the job offer, the employer will then agree to file an H-1B petition on his or her behalf. The H-1B visa application must be filed at least six months prior to the start date of the H-1B worker's new employment. This means that for FY 2017, the earliest work start date for a new H-1B employee will be October 1, 2016.
Once a foreign worker has been hired, the employer should retain an immigration attorney in order to file a Labor Condition Application (LCA) and the H-1B petition. The LCA must be filed and approved with the Department of Labor (DOL) before the actual H-1B petition can be filed. The attorney will collect all the necessary information for the LCA. This will include: a job description, dates of employment, employer information, and the beneficiary's qualifications, education, and experience.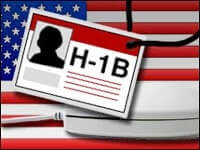 Then, the immigration attorney will research the prevailing wage determination for the specific area of employment. This involves checking with the Department of Labor and the National Prevailing Wage Center, or investigating other possible wage sources. The attorney will then find the appropriate prevailing wage for the specific H-1B position, and will file a Labor Condition Application (LCA) with the Department of Labor on behalf of the employer. Currently, the Department of Labor is taking around 6 days to process LCAs, so it is important to begin this process at least two months in advance of the April 1, 2016 date for accepting new H-1B petitions.
The LCA will require the employer to pay the H-1B employee the same prevailing wage and benefits as domestic employees. It also ensures that no similar domestic workers have been displaced or suffered reduced wages by hiring the foreign worker.
Once the LCA has been approved, the H-1B petition will be filed with the USCIS. This should be filed as soon as possible on or around April 1, 2016, complete with the approved LCA. Afterwards, the USCIS will take around 2-4 months to evaluate the H-1B petition. One option available to speed up this process is called Premium Processing. For a fee of $1225, under Premium Processing the USCIS will expedite your petition and issue a determination within only 15 calendar days.
The current base filing fee for an H-1B visa petition is $325, with an anti-fraud fee of $500, an education and training fee of $750 for employers with less than 25 employees/ or $1500 if more than 25 employees; and, starting this year under new legislation that has been widely criticized, if the employer has more than 50 employees with more than half who are H-1B workers, an additional $4000 fee will be imposed.
Once the H-1B visa petition has been approved, the visa beneficiary and family members may apply for personal and family visas at the nearest U.S. Consulate. Their passports will be stamped with a valid H-1B visa, and they may travel to the U.S. to be admitted under H-status. The H-1B visa will be valid for a maximum of three years, or until the end of the employment. An H-1B beneficiary may typically extend their visa status for a maximum of six years. During this time, the beneficiary may travel freely within and without the U.S., and an H-1B beneficiary may even later seek to adjust their status to that of a permanent resident in the U.S. without affecting their H-1B status.
If you have questions about immigration and/or you need help in an immigration process, please contact The Law Firm of Shihab & Associates, Co., LPA for a consultation. Our law firm handles various matters including Green Cards and Permanent Residence, family immigration, asylum cases, immigrant visas, non-immigrant visas, employment visas and H-1B visas, investors-visa, PERM applications and many more.